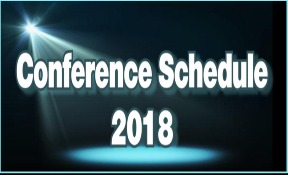 (Eric speaking twice each day plus Sunday Morning)

(Eric speaking twice Friday April 27)

(Eric Speaking three times Saturday April 28)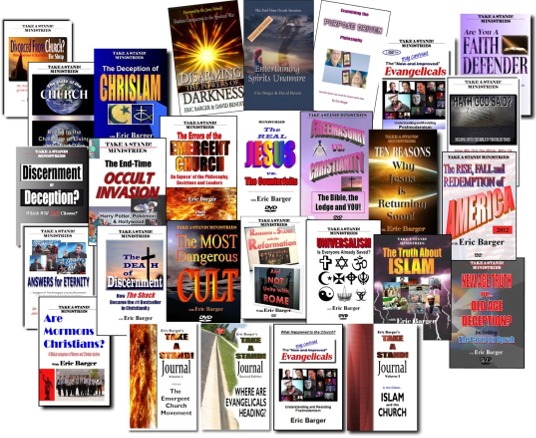 "One of Everything!" Special
(24 DVDs, 10 CDs, 3 Books, 5 Booklets)
* All items not pictured
Order online or call (214) 289-5244
---
Receive Eric's Newsletter!
Get Regular Updates and Info
Sign up for our Newsletter Here!
If You Found Us Through Radio or TV... Click Here!
Previously unsubscribed but want to rejoin our list?
---
---
"I believe Eric is one of the premier Christian Apologists traveling the country today."
- Rev. Bob Fort, Chairman, United Evangelical Churches
"Eric Barger is one of the most knowledgeable defenders of the faith on the Christian scene today. Equally important, he is a down-to-earth effective communicator who is able to make complex ideas understandable to the average person. But even more important is the fact that everything he has to offer is thoroughly grounded in the Word of God."
- Dr. David R. Reagan (www.lamblion.com)
"We have invited Eric to speak 23 times since 1987. I highly recommend his ministry."
- Pastor Milton Hubbard
"Eric's articulate presentation of carefully researched information is solidly based in Scripture and life-changing in its impact."
- Pastor Jim Keys
"Over the years we have had Eric at our church many times. We have always found his ministry to be balanced and to the point. He has helped our church stay focused and walk in the will of God."
- Pastor Sam Buckingham
---

Home / Information Center / Scheduling / Online Store / Newsletter Archive / Subscribe to Newsletter / Links / Who Are We? / Mission Statement Picture Gallery / Are You a Christian?
---
Other Sites Worth A Look...






All material contained in the website (www.ericbarger.com) in ANY FORM including newsletters and other mailings is protected speech pursuant to the "inalienable rights" of all men
as covered by the Constitution of the United States of America and its Amendments.
See Privacy Statement HERE
Website Search by JRank (http://www.jrank.org/)
(c) copyright 1997-2018, Eric Barger, all rights reserved