Eric's Featured Products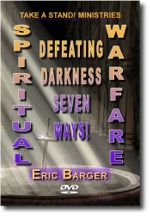 New Update!
SPIRITUAL WARFARE: Defeating Darkness Seven Ways
INCLUDES:
* Eric's key teaching adapted from his book Disarming the Powers of Darkness
* Chocked full of Scripture and biblical understanding
* Learn your authority and responsibility as a Christian
* Learn where the war is NOT and what NOT to do in fighting spiritual darkness
* Includes seven battle tested, spiritual weapons every Believer should know and use with a focus on personal victorious living and freedom for those captive
---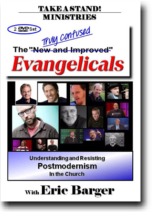 The New Confused Evangelicals:
Understanding the Resisting
Postmodernism in the Church
(New Two DVD Set from Eric Barger)
The most extensive research and expose' we have ever undertaken concerning the forces and beliefs that are shaping Twenty-First Century Christianity.
Disk 1: Understanding and Identifying
Disk 2: Resisting and Combating
IN THIS DVD SET…

Eric Barger exposes what is nothing short of a wholesale, end-time abandonment of the Bible - all in the name of "Evangelicalism."
On Demand

---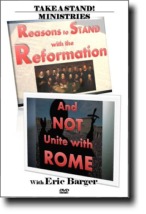 Reasons to Stand with the Reformation and NOT Unite with Rome
(New DVD from Eric Barger)
IN THIS VIDEO…
Eric Barger details: Nine Reasons why the Catholic system opposes the Bible including Idolatry, Praying to or through the Dead, Purgatory, Faith & Works, Papal Authority
- Current Ecumenical movements that ignore Scriptural commands
- A Review of The Reformation and the "Reformers Hall of Fame"
- The deception of "Unity"

"Unity at the cost of truth isn't really unity. How can unity be our path if it is actually based in error?" – Eric Barger
On Demand

---
View all Books, CDs, DVDs and Teaching Materials HERE!