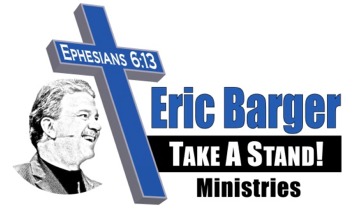 Disarming the Powers
of Darkness
Fearless Conquerors in the Spiritual War
by Eric Barger and David Benoit
Table of Contents
Introduction: The Call To War
1. You ARE in a War!
2. The Ground Rules for Warfare—Knowing Your Enemy & Knowing Who You Are
3. "Fruitful" Warfare—Preparing for Battle
4. There's Power in the Blood!
5. There's Power in the Word!
6. What You Think and What You Say—Does Satan Know Your Thoughts?
7. What You Do and What You Use—Silence Means Defeat!
8. Examining the Armor of God—Truth and Righteousness
9. SHOES and a HAT to match!
10. Shielded by FAITH
11. Two Big Guns—PRAYER and the WORD!
12. The Battle Cry of Praise
13. CAUTION: The Psychic "Hotline" is Called "Hot" for a Reason
14. The Fascination with Fear; The Failure of Ignorance
15. What Then Must We Do?
All rights reserved. Copyright 2002, Eric Barger and David Benoit
If you are not already a subscriber to Take A Stand! O N L I N E click here!
Take A Stand! Ministries - POB 1485 - Rowlett, TX 75030
(972) 495-9490 http://www.ericbarger.com