This DVD includes all four of Eric's "Christ in Prophecy" TV programs aired internationally in August and September, 2009 with Dr. David Reagan and Nathan Jones of Lamb and Lion Ministries.

Topics Covered Include:

* The need for Biblical Apologetics today
* The Errors of the Emergent Church
* The facts about The Shack book
* The MOST Dangerous Cult
* The New Age Movement and Oprah
* Is the Allah of Islam actually Jehovah God?
* Why we MUST biblically discern the doctrines and practices of others - including Christians
* The Prophetic Challenges Facing Biblical Christians Today
* Eric's Testimony
* And More!!!

Lamb and Lion Ministries wrote: Dr. David Reagan and Nathan Jones interview one of Christendom's leading apologists, Eric Barger, founder and director of Take A Stand! Ministries.

When Eric was saved, he was a rock and roll musician and drug addict who was deeply involved in the New Age Movement. His amazing transformation into a leading defender of the Christian faith is truly a miracle of God.
Order online, call 214-289-5244 or mail your request to:
Take A Stand! Ministries - PO Box 1485 - Rowlett, TX 75030
---
SPECIAL "One of Everything!" OFFER
For a gift of $250 we'll send our
"ONE OF EVERYTHING!"
SPECIAL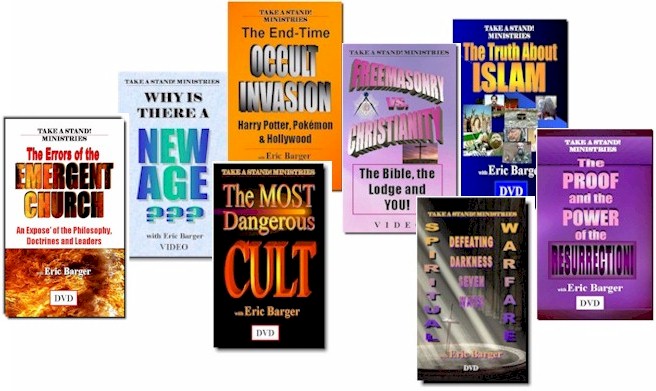 This offer now includes:
20 full length DVDs
10 audio CDs
5 BOOKS
$449 value for just $250.00 (plus shipping)
* Build a library of Apologetics Materials!
* Get them for your church!
* Order Multiple Sets - Give them as Gifts!
* Support the Ministry of Take A Stand!
Topics include:
Mormonism, New Age and Cults, Apologetics, Liberalism/Purpose Driven Philosophy, Spiritual Warfare, Islam, Harry Potter, Rock Music/Eric's Testimony
---
Take A Stand! Seminars are Changing Lives Every Week!
Call 214-289-5244 or email us today to schedule Eric for your church or community.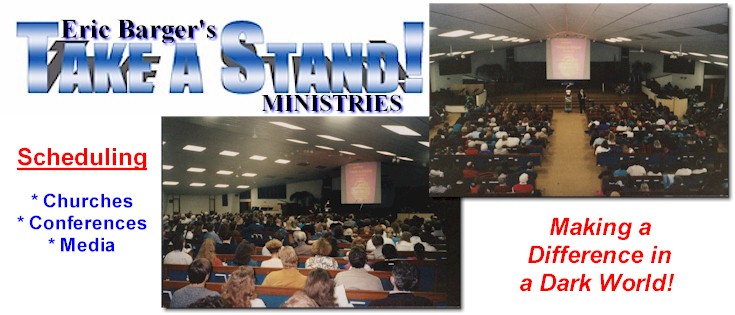 Click here for more information!
---
Receive Eric's printed "Take A Stand! Report" - mailed to you FREE !!!

Just give a gift to the ministry or purchase a product from our bookstore and receive a free two year subscription.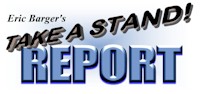 Visit our Online Bookstore!
---
If no-nonsense, straightforward apologetics Ministry is important to you then we appeal to you for financial support!
To contribute here online with

or

or send your gifts to:
Take a Stand! Ministries
PO Box 1485
Rowlett, TX 75030 USA