How We Came
"From Rock To Rock"
The Testimony of Eric & Melanie Barger
---
The scene was my grandparents living room at home in West Virginia. In 1964, at age thirteen, I had already started in my "career" as a musician. The Dave Clark Five, The Supremes, Jan & Dean, The Beach Boys - they were all my favorites. They taught me how to play the guitar . . . at least through their records. The most rebelious song on the radio in those days was "It's my Party and I'll Cry if I Want to"! It seemed all so harmless. Then one Sunday night almost 40 years ago, I first saw The Beatles. That did it. I said, "That's what I want. I want to be a musician for life." Little did I know what that was going to mean for me.
By the time I turned sixteen, I was playing in the largest party bar at Ohio University six nights a week. I was popular and financially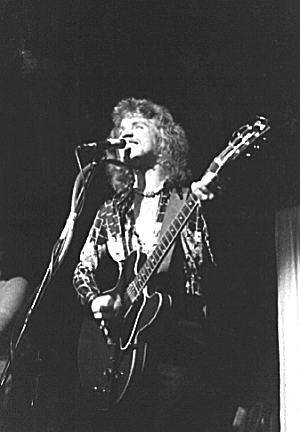 successful for my age. My high school English teacher even told me that I was making more money each week than she was teaching school! I grew up fast too fast. In short order, I had thrown off the upbringing that Grandma had tried to give me, exchanging it for sexual experiences, hashish (drugs) and the rock n' roll lifestyle. Going to our little church seemed "weird," and "old fashioned" - in short, a waste of time. Gran had tried, but knowing little of what was really going on in my life, she just resigned herself to pray - and I did
Eric Barger on stage at the Paramount Theater, Seattle, 1972
my own thing. It wasn't until years later that she discovered that those teen years were spent with a joint in my mouth and a different partner feeding my sexual appetite each week. Life for me was the ultimate in doing your own "thing".
You may wonder, "What's wrong with that? We live in a free society. Besides, everybody's doing it!" If so, I understand. I felt that way for many years, living in my "do your own thing" existence. I couldn't see what harm could come from getting all of the self-gratification possible. After all, it was my life.
At seventeen, with one girl pregnant and my 23 year-old girl friend very upset, I split for the West Coast. (Now, I see my son, Chris, as often as my traveling schedule permits. Praise the Lord we have developed a great relationship!) That's where it was all happening: rock stardom, fame, and fortune. And a fresh start. But nothing in my life really changed. Except for the scenery. By twenty, I was playing regularly in the Seattle area recording studios and bars. My songs were full of lyrics about love, but I didn't have a clue about what that word really meant.
Life had become one big "high". Sex, drugs and rock n' roll were all I really cared about. Traveling with my band and living with one girl, sleeping with a dozen others each week while mind expanding MDA, psychedelic mushrooms and LSD become my staple. All the while I was after the elusive record contract that would enable me to "make it" in the music business. I was searching for reality in eastern mysticism - something now called "the New Age." I was dating a real witch who dabbled in candle magick and astrology. I wanted to know why I existed and where I was going.
At 26, my search for reality was at a dead end, burnt out, disillusioned and in a fog, I left the group and invested what I had into a recording studio. It was there that I found success. From that first small studio I moved through several others and finally became the studio manager for what is now the largest recording complex on the West Coast. I had found my niche. I had a gift for hearing sounds and arranging music. Eventual Grammy Award winners Kenny G, Queensryche and many others were regulars there. I had my Lincoln Continental. I was on my way - to what, I didn't know, but I was going!
I continued to play in a local bar with friends "just for the party." We were called "The Sin City Ramblers." With all of my apparent success I had hit the bottom . . . thinking I was heading for the top.
It was there that I met Melanie. At first she was destined to be no more than just another notch on my belt, another sexual trophy. But I really began to feel something different for her. After knowing her for only three weeks I moved out of my girlfriend's house and did what I always said I'd never do - I got married!
Melanie and I had a lot in common. She had a library of reference books on witchcraft. There was always sex, drugs and rock n' roil. What else was there? In my confused mind, life was complete. But the bliss didn't last. It wasn't long before Melanie found that I couldn't be satisfied with just her. I was back in bed with my old girl friend. The scars of a life without morals were deep and impossible to change - or so I thought.
Each day was a fight. Since I never knew what responsibility truly was, I ran to what made me feel good: my studio and my cocaine.
Marriage just didn't fit in my plans. It hindered me. But as far as I understood, I loved Melanie. What was I to do? I see now that I really loved the convenience of marriage.
One day during a heated argument, Melanie threw a 2" thick phone directory of yellow pages at me. I had made a smart comment about getting our lives straightened out through a marriage counselor. For reasons unknown to me, I said, "But it's gotta be a Christian counselor." She screamed, "You figure it out; you *@&$%!!"
The next morning I opened those same yellow pages to "religious counselors", closed my eyes and jabbed my finger at the page. The number I hit was a real live Bible-believing Christian minister who counseled from his real estate firm.
On our first visit, he asked if we were "Christians". We said, "Oh sure. We were both baptized in the Methodist church as kids. Besides, what do you think we are? We aren't Hindus'! And we live in America! Of course, we're Christians."
He counseled us over 50 times.
It was during these sessions that he kept suggesting something that I didn't understand nor want: that I "take responsibility in our home." He also kept talking about the Bible - something I knew only as a "good book." Though I called myself a "Christian", I knew nothing about God.
I came home from the studio one evening in my usual state of being loaded to find a Bible sitting on the coffee table. I thought, "That's nice . . . as long as Melanie doesn't get weird with it."
She got weird.
Melanie began to read the Bible and, supernaturally, God drew her to faith in the Jesus that the pages revealed to her. She stopped being my drug partner. Our $500-$1,000 a week habit was now mine alone. Her speech changed. She was different. But my life was still on a downward spiral until once during a counseling session that I openly rebelled. When the minister asked if either of us wanted to "receive Jesus as savior", Melanie said yes. "With huge tears flowing down her cheeks, he led her line-by-line in prayer. I watched as God came into my wife's life. But I determined that no way was He getting me!
I had long since disdained the counseling but now she had "flipped out" and become a "Jesus freak." I'd had it.
Weeks passed, then months. Melanie read her Bible and attended a Bible study group while I plunged deeper into coke and my work. I had lost my partner in perversion but I was still determined to follow "my dream", regardless of what it cost or where it led.
One Friday night she discovered my car close to a girlfriend's house. Though she didn't catch me there I knew I'd been found out. That night I did as much coke as I ever had throwing me into a hyper-paranoid state. I spent the next day trying to a come down" in a hotel room. The coke had taken me into a new level of experience but not a good one. I couldn't stop shaking and my worst fear was realized when I found my dealer had run out of the white powder I craved.
Melanie spent the day praying and crying to God for direction. She and our counselor had prayed on the phone at 1 am "God . . . whatever it takes . . . GET ERIC!"
Sunday was a cold, rainy Seattle day. Melanie went to the bookstore to find something that would give her peace. Finding nothing on "peace", she walked out with Racing Toward Judgment by prophetic author David Wilkerson. Reading it entirely, her mind had been diverted from dwelling on me. For all she knew I could have been dead by then but she was comforted with the Peace that only knowing God can give.
In my drunken state I came through our front door screaming obscenities at her. My memory blurs at that point. I passed out on the floor. Hours later I came to and climbed up onto the couch where she had been sitting quietly praying for me. I was trying to find the courage to ask her for a divorce when I picked up the book that was lying there between us. In my nervousness I simply flipped Racing Toward Judgment open to page 60. There on the left side of the page, underlined with my wife's pen were three words: a GOD HATES DIVORCE!"
I fell on the floor and burst into tears. My wife began to cradle me in her arms. I know now that through her, Jesus was hugging the adulterous, abusive, drug addict. I genuinely pleaded with God (and my wife) to forgive me. I'd said it before but only for convenience. This time, however, I had hit the bottom.
I was forgiven right there of every evil thing I had ever done. How do I know? Because the Bible promises that "Whosoever calls on the name of the Lord WILL BE SAVED" (Romans 10:13). You say, "But how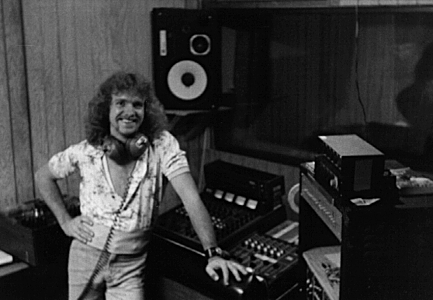 can you trust the Bible?" One simple thing separates the Bible and Christianity from every other religion: the historical fact that Jesus Christ died and rose from the grave. I had searched enough for "inner enlightenment" to know that the answer to life didn't lie inside of me. For the first time I had an
Eric Barger in his first studio - 1976
inexpressible feeling of wholeness and value. I was clean. I was saved! And I never went through a drug or alcohol rehabilitation center. The Holy Spirit of God came and did it all!
Our lives were radically changed! God called us into the ministry to travel and warn people about the messages being sent through the lyrics and lifestyles of the Entertainment and Music worlds. We now teach how the New Age Movement offers "self enlightenment" but is only repackaged occultism in a humanist guise, and we train people how to effectively wage Spiritual Warfare. (Click here for more information.)
We never dreamed that in a few short years God would send us across America and Canada speaking in crusades, through radio and television, writing for publications and publishing books. He's been so good to us. We've truly come "From Rock To THE ROCK!"
You can too. My prayer for you is that you won't "hit the bottom" on your way to the top. You don't have to.
As human beings we have one major flaw. We have all sinned yet we all want to think that we are "ok", "nice people" or that "God will accept us because we're just good and kind." This is a lie that will take millions of people on a one way trip to a place called Hell. You don't have to go there. But there is only one way out. Jesus came and died for your "wrongs." He already paid the price for you to enter God's Heaven - forever. All you have to do is ask Him for forgiveness and follow Him with all your heart. He doesn't want to spoil your fun or ruin your life. He wants to replace counterfeit joy with the real thing. His joy and the peace of knowing Him and carrying on a personal relationship is the greatest high I've ever known. This is NOT "religion." This is a relationship with the creator of the Universe!
How do YOU get it? Just ask. He's waiting, but He won't be for long. He's coming back for His people, those who've put their life and trust in His hands. And, by all that the world is experiencing earthquakes, wars the threat of annihilation and economic uncertainty - the Bible says that His return is imminent. What would happen if your life were to be suddenly taken? Where would you be for eternity?
Call out to Him today, Right now. Just say, "Lord Jesus, forgive me of all wrong doing and thinking. Change my life and give me peace. I accept your dying in my place on the cross 2,000 years ago and by faith I receive your salvation - not based on my goodness or action but on your shed blood. Replace my pain with your Holy Spirit. Thank you, Amen."
If you've prayed that just now you may not fully understand what you've done. You may not "feel" anything. Those words alone cannot save you nor transform you. Feelings cannot help you - but Jesus can. If you ask Him - and mean it from the depths of your heart - He will truly become your "Rock." That is the difference. Praying and meaning it. If you ask Him to save and change you, He has promised that he would never reject you. (Matthew 28:20) If you really want Him to, He'll make you a new creation - with a fresh start on life. (II Corinthians 5:17-21)
To find out more get a Bible (start reading with the New Testament), begin talking with God in prayer and find a good Bible believing church that teaches the whole gospel. Then, watch what God will do in your life. He has a great plan for you because He loves you! If we can help you in any way, please let us know.
Copyright © 1997, 2000 Eric Barger
---
Take A Stand! Ministries - POB 1485 - Rowlett, TX 75030
www.ericbarger.com (972) 495-9490
If you are not already a subscriber to Take A Stand! O N L I N E click here!